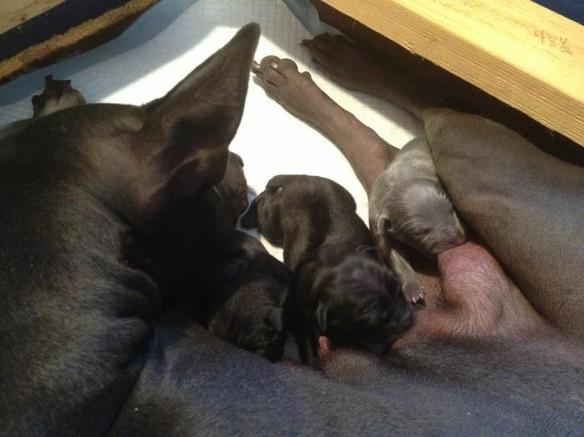 We  finally recieved good news from sunny California. Our Hiro once again became a  proud father of cute litter. This time the puppies were born in a California kennel of  Thai Ridgeback  — Mah Thai Kennel from awesome female named Phathu (Princess).
First american litter consists of  one male of  blue color, one  male of black colour and female of  black colour. All three pups have a velor type of coat. The litter  is healthy and all pups of big size and  growing very fast. Mother loves them very much and take the best care of them! The breeder also in a puppy mood and wanna spend all the time with pups and Phathu!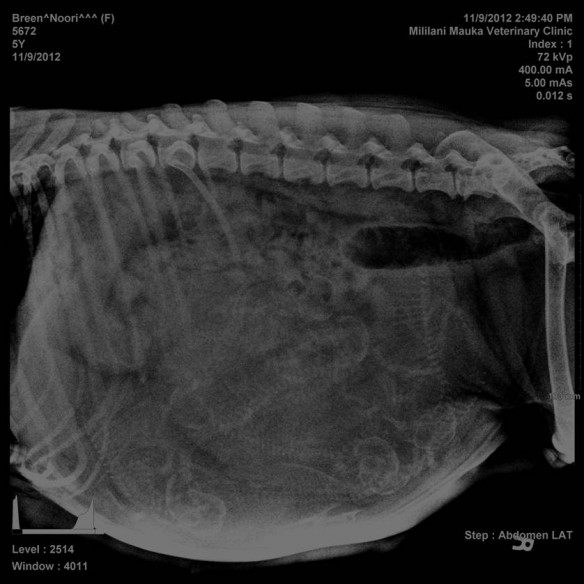 It should be noted that this is the first co-operation of Thai Ridgeback kennel of Europe and the U.S.A. kennels. In the very near future, we expect puppies from ourr Hiro and charming Noori in the kennel Regal Thai Ridgebacks which is situated in Hawaii. Today we recieved the photo from them. The photo from X-ray of Noori's belly!!! We are so happy and exited! It was counted at least 10 heads! So she can strats whelping now at any time and  probably it will be the biggest litter from my stud Hiro!
I'd like to believe that this is just the beginning of our cooperation with  these 2 kennels and it will be fruitfull for both sides and for breed in general! Because it is interesting new combinations of bloodlines. We are in Europe do not have such bloodlines for sure.
On reservations and purchase Thai Ridgeback puppies  write to our email: MYTHAIDOG@GMAIL.COM.