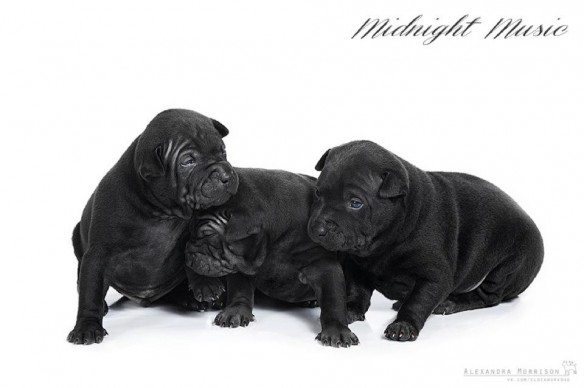 In Kennel FCI Midnaight Music was born first litter from our Hiro and famous Igla in 2012 year! Pups were born 28 September 2012.  The litter consists of 2 females and 1 male. All are deep black. Puppies are healthy, all with long simetric ridges, long tails without kink. The litter  of Thai Ridgeback Dog is free from DS.
Dam: Midnaight Music Mission Save Marsi:
Junior champion of Russia, Junior champion of Montenegro, Junior champion of Macedonia, Junior champion of Serbia, Junior champion of Bulgaria, Junior champion of Balkans, Champion of Russia, Champion of Ukraine, Champion of Lithuania, Romania, 4 x Champion of RKF, Champion of Eurasia 2010 (BOB), Champion of Eurasia 2012 (BOB), Candida
te to Champion of Thailand, 14 x CACIB, Interchampion, Multychampion, the winner of BIG(1,2,3 places), BEST-2 of International Dog Show.
Sire: Hiro Thai Pnlamaj:
Junior champion of Poland, champion of Belarus, champion of Poland, East Winner 2011, champion of Romania, Grand champion of Romania, champion of Ukraine X 4, Vice world champion 2011, Europe Champion 2011, champion of Luxembourg, Interchampion, Multychampion, candidate to Champions of Lithuania, Slovakia, The Netherlands, 14 X CACIB, 1 RCACIC from WDS 2011, 1RCAC,class champion WDS 2012, 18 X BOB, the winner of BIG (2,3,4 places).
We are very happy and proud about this litter! We are looking so long for this litter! We wish puppies to be healthy, beauty and strong ones!